There are many things happening at East End Chiropractic! With the addition of Dr. Calabra to the office and the new addition to Dr. Olsen's family, we have decided to make some changes to our open hours.

We know how much our patients value the days that we are open late until 6pm. This gives you an opportunity to receive care after work hours.  We will continue to keep our office open 3 days a week until 6pm.  Below are the new changes to our hours.
Monday: 8am-1pm and 3pm-6pm

Tuesday: 10am-1pm

Wednesday: 8am-1pm and 3pm-6pm

Thursday: 8am-1pm and 3pm-6pm

Friday: 8am-1pm
These new hours will still allow for chiropractic care before the weekend and hopefully allow you to get out of town earlier on Fridays when you need! As always, your feedback is important and we would love to hear what you think about the new change.  Please feel free to drop us and email at info@eastendchiro.com or come by the office if you have any questions or concerns.
Dr. Olsen and his wife Erin have added a new member to their family!  Baby boy Olsen was born 9/24/2014. Although Dr. Olsen will be out of the office for the next week, our office hours will remain the same.
Dr. Calabra is here to help with any Chiropractic needs.  Please give us a call if you need to schedule an appointment.
We have been so fortunate for the past 3 1/2 years to have Marah Harrington as our Office Manager at East End Chiropractic. She has done an incredible job of organizing every aspect of the policies and procedures of the office, and has been a great account manager for our patients.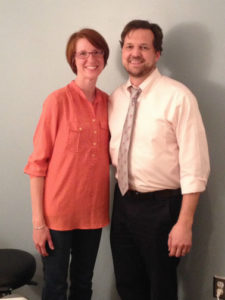 While we are saddened that Marah is leaving us, we are excited for her and her husband, James, as they begin a new chapter of their lives in Tallahassee, Florida, where James will be completing graduate studies at Florida State University.
Stepping up to the Office Manager position will be our own "Awesome" Meghan Jones!  Meghan has been our Office Assistant since November, 2013, and has quickly become an indispensable asset to our clinic.
During the past 4 weeks, our social media theme has been sleep ergonomics. 

As we wrap up July, let's look at sleep from a different perspective. Many of our patients attribute their back pain, neck pain, and other musculoskeletal complaints to sleep-related events.  Here are the most common:
"Our mattress is old/worn out."
"I must have 'slept funny'."
"I need a better pillow."
"I've been travelling and sleeping in hotel beds."
"We stayed at our in-laws' house on a bad mattress." (This is a very common misconception.  I think there could be a good psychological study on this phenomenon).
While all of these things can initiate an episode of musculoskeletal pain, it is important to consider the underlying structure and function of the area in which there is pain.  In other words, maybe it's your back, not the mattress!
In reality, a musculoskeletal system that is functioning optimally should be able to withstand a few nights on a bad mattress, or falling asleep on the sofa, without causing pain or spasms.
Here's how it works.
When spinal joints are not moving properly, your central nervous system (brain and spinal cord) are quick to detect this problem, whether you are aware of it or not.
Corrective neural impulses are sent from the central nervous system to nearby muscle groups to stabilize the dysfunctional area.
Sleeping tends to relax some of this defensive posturing, leaving the weakened areas vulnerable to irritation.
Upon waking, you attempt to move and "stir-up" these dysfunctional spinal joints
Your central nervous system interprets this sudden movement as dangerous and responds by locking up all of the muscle groups around the dysfunctional area, essentially making a natural (and very painful) "splint" to stabilize the area.
This is most likely happening if you are waking up often with back and neck pain.
We can help!  In our office, we evaluate the motion patterns of your spine.  In most cases, we are able to identify the underlying dysfunction and correct it via spinal manipulation, muscle release techniques, and therapeutic exercise therapy.
This Memorial Day, while you're outside grilling your pork chops, hamburgers, and hot dogs, take a moment to put down the spatula and the drink, and remember those who gave up their lives so you could enjoy the freedom to gather with your family and friends for this and every other such event throughout the year.

On the behalf of our staff and myself, we wish you the greatest of Memorial Day celebrations.
As a reminder, our office will be closed on Monday, May 26 in observance of this holiday.  We will re-open on Tuesday, May 27, at 10:00 AM.