East End Chiropractic relies on the good reviews and kind referrals that our patients continue to give. We are thankful to work in a community of people who see the value of conservative chiropractic care and we would like to show our appreciation! For the month of March, we are giving current patients an opportunity to receive a free adjustment. Here's how:
 Stop by our office and pick up a referral card with a signature
Give the card to a friend, coworker or family member who has not been to East End Chiropractic.
When they make a New Patient Appointment with us, have them bring the signed card in with them.
If the appointment is kept, your account will be credited with a free adjustment!
Also, if you haven't left a review on one of the sites above, please take a moment to leave one. The tool bar at the top of our page is an easy way to link to your favorite review site. Anyone leaving a review for East End Chiropractic during the month of March will be entered into a drawing for a free adjustment! If you would like to be included in the drawing, make sure you leave your first name and the first letter of  your last name on your review.
We cannot say enough about you, our patients, and the gratitude we have for your kind words and referrals. As always, please let us know if we can do anything to make the services we provide better for you. Happy March everyone!
"Wellness" has become a buzzword nowadays, especially with the recent introduction of the Affordable Care Act, which places high emphasis on staying healthy and reducing healthcare costs. The American Chiropractic Association defines wellness as "an active process that promotes health and enhances quality of life." I believe that in order for a person to be well enough to do the activities they enjoy, they must be given the correct tools to help them take charge of their health.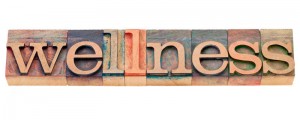 Let's talk about that stiffness in your neck that you attribute to "old age" when, in fact, you're only 36.  Because that stiffness becomes pain when you play tennis, you rarely play anymore.  You're starting to become sedentary (which is disastrous to your overall health) and you're not even 40 yet. The reality of this situation is that, likely, the abnormal motion patterns in your neck that cause that stiffness and pain can be corrected with a short course of treatment by a good chiropractor.  You can then return to the tennis court, and make a huge contribution to your entire well-being.
Chiropractic care focuses on disorders of the musculoskeletal system and the nervous system, and the effects of these disorders on general health. By treating the underlying issues, many symptoms resolve quickly. It is important to note a chiropractor's approach is drug-free; in addition to their expertise in spinal manipulation/adjustment, doctors of chiropractic are trained to recommend therapeutic and rehabilitative exercises.
If you're curious about how chiropractic care might help you on your path to wellness, give our office a call. We'd love to set up a consultation (free of charge!) for you to meet with me, and ask me any questions you may have.
We are frequently asked a question that is actually quite troubling to me.

The question is: "will I have to sign a contract to get care in your office?" Another variation of that question is, "how do I get out of a contract that I have signed with another chiropractic office?"
We do not require our patients to sign a contract for care.  We do not require up-front payment for multiple visits.
We only charge fees for services rendered.  We only prescribe treatment that is necessary, no more, and no less.  Each patient is different, requiring a different treatment plan based on the patient's NEED for care.   We do not have a "package" to sell you for "unlimited visits," because most patients do not need an unlimited number of visits.  In fact, part of being a doctor is prescribing the right amount of care.  Not too little, not too much.  Furthermore, if the patient is not progressing at a satisfactory rate, this individual should have the freedom to seek care somewhere else, without the burden of having signed a contract.
It is not illegal for a practice to do this.  However, it does bring up some ethical questions. It is very important to question the motive of any contract BEFORE you sign it.  Remember, a contract is typically written for the benefit of the person writing the contract, not the one signing the contract! Please don't hesitate to contact us if you'd like to discuss setting an appointment for care. We also appreciate any feedback.